Skip to Main Content
It looks like you're using Internet Explorer 11 or older. This website works best with modern browsers such as the latest versions of Chrome, Firefox, Safari, and Edge. If you continue with this browser, you may see unexpected results.
Databases
Vatican Film Library

Selected information on the holdings and organization of the VFL library.

Medieval Travel Writing

SLU does not have access

This resource provides an extensive collection of manuscript materials for the study of medieval travel writing in fact and in fantasy. The main focus is accounts of journeys to the Holy Land, India and China. The core of the material is a magnificent collection of medieval manuscripts from libraries across Europe and dating from the 13th to the 16th centuries. These have been reproduced in color where appropriate. These are augmented by an array of translations and supporting materials (all of which are fully searchable) and maps showing the routes of the travelers. The content of this collection is suitable for teaching in Medieval Studies as well as wider topics such as concepts of race, cartography, and post-colonial studies.
In Principio

In Principio is a index of approximately 1,000,000 incipits (first few words of text) of Medieval and Renaissance Latin manuscripts.

Monumenta Germaniae Historica Online

Primary sources in Latin for the study of German history from the end of the Roman empire to 1500.
Parker Library on the Web

This interactive, web-based workspace is designed to support use and study of the manuscripts in the historic Parker Library at Corpus Christi College, Cambridge.
La Rue Marchande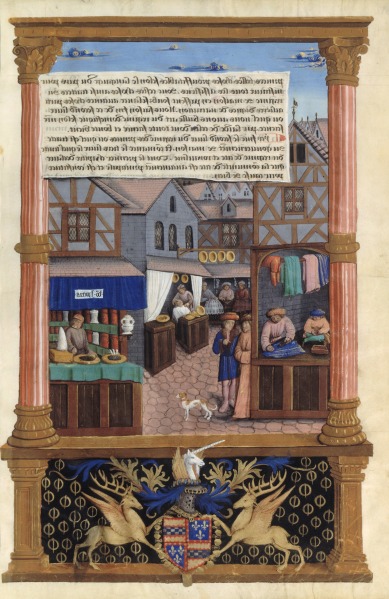 Livre du gouvernement des princes, 16th century
Paris, Arsenal, manuscrit 5062, fol. 149v.